The CAPS staff is regularly working to provide group therapy and outreach workshops that are relevant to the UC Merced campus community. This page will provide information regarding the current groups and outreaches that CAPS has planned.
If you have a group or outreach that you would like to see CAPS provide that is not listed you can email CAPS at counseling@ucmerced.edu to submit your request/suggestion to CAPS for consideration.
Groups
Counseling groups typically meet once per week for anywhere between 3 and 10 weeks, with each session lasting approximately 1 hour. Most counseling groups are structured around a particular topic or area of concern (e.g., stress management or body image), although some counseling groups are more process-oriented to allow students a greater opportunity to connect, encourage, and support one another. For some groups, it may be necessary for each potential group member to undergo a group screen with the group leader to assure that a particular group is appropriate for you and to adequately prepare you for the group counseling experience. Please stop by or phone Counseling & Psychological Services if you are interested in group counseling.
*******Due to the current COVID-19 situation, CAPS support groups are making their way online via zoom meetings.********
Group Sessions listed below:
AA/Black Scholars
Co-Facilitated by: Dr. Shao Li and Amanda Peterson, LMFT
Starting: Sept. 14th
Meeting Day: Monday 11am-12pm       

---
 Coping In Remote World
 Facilitated by: Amanda Peterson, LMFT
 Starting: Sept. 14th
Meeting Day: Monday 1pm-2pm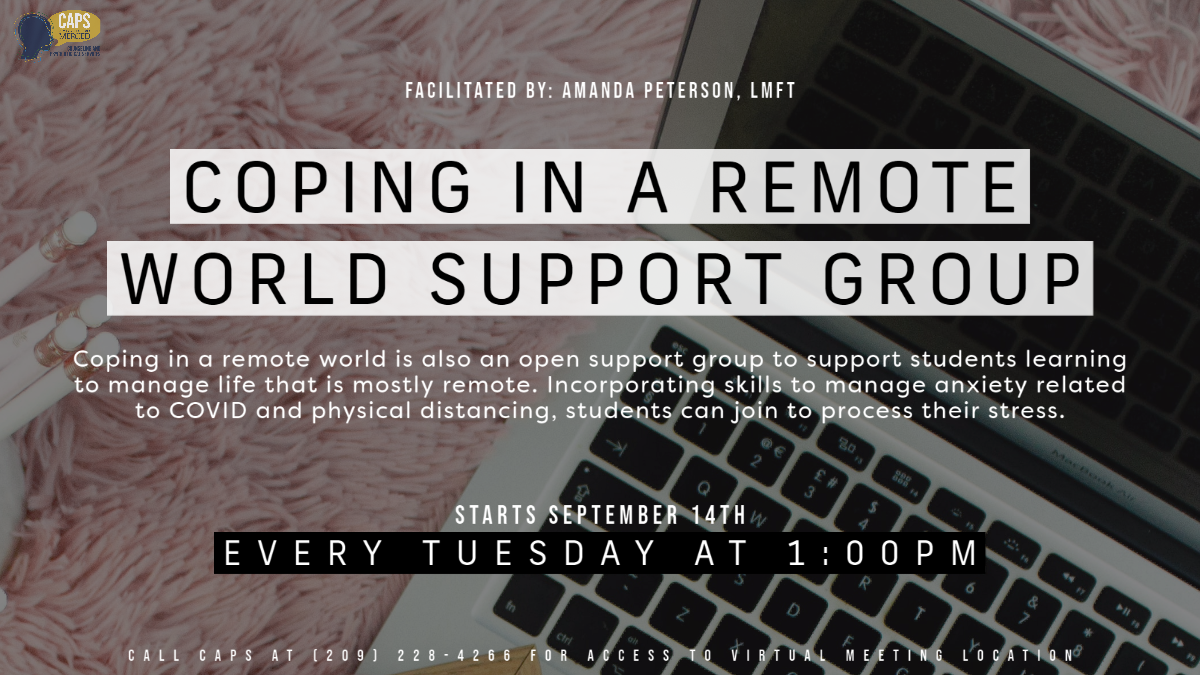 ---
Anxiety Toolbox
Facilitated by: Julie Ray, LMFT
Starting: Sept. 14th
Meeting Day's: Monday 1pm-2pm & Wednesday 3pm-4pm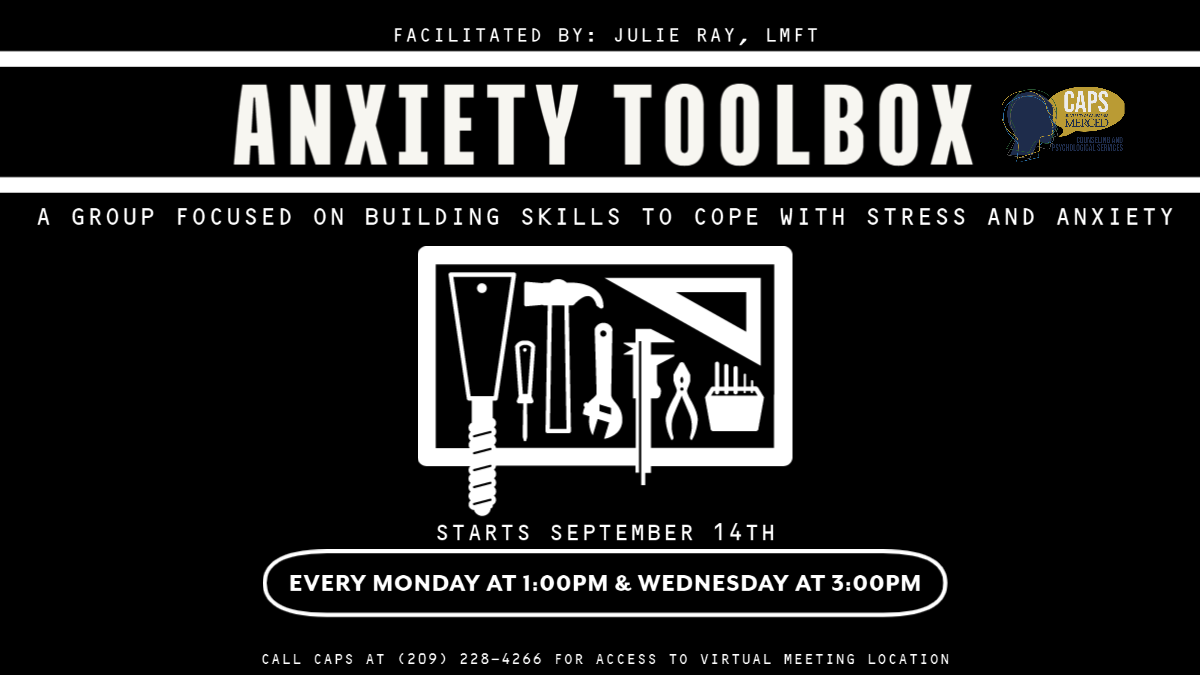 ---
Woman's Trauma Group
Facilitated by: Julie Ray, LMFT
Starting: Sept. 14th
Meeting Days: Monday 3pm-4pm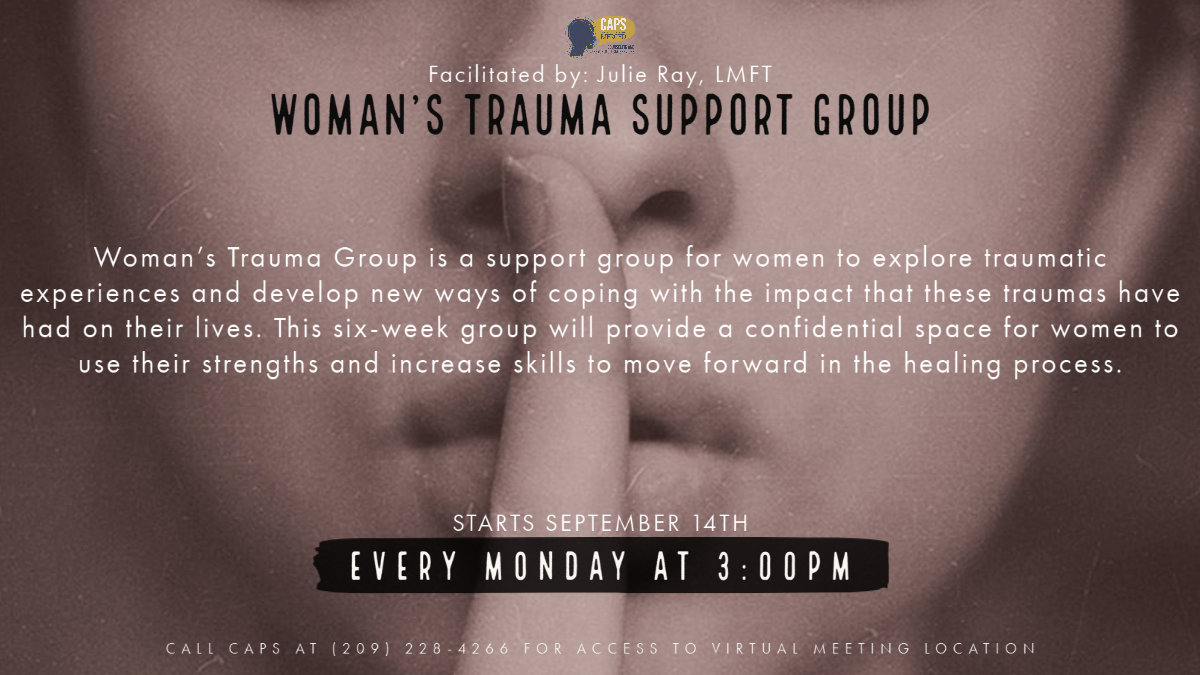 ---
LGBTQ+ Center 
Facilitated by: Dr. Shao Li
Starting: Sept. 1st
Meeting Day: Tuesday 11am-12pm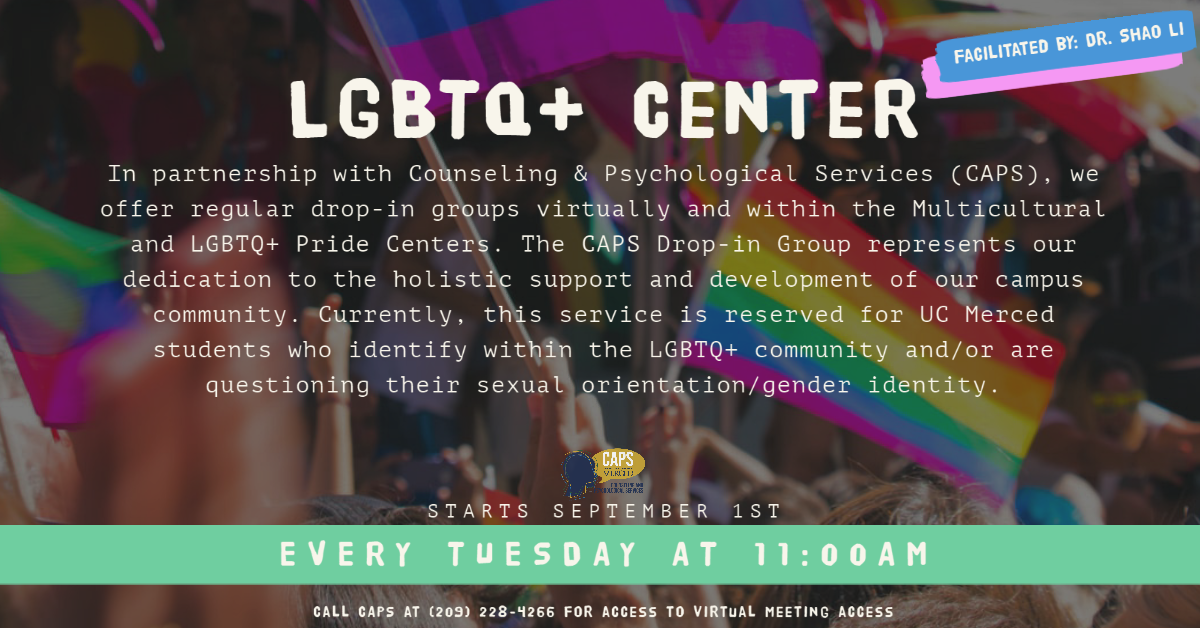 ---
Coping with Grief and Loss Group
Facilitated by:  Dr. Laurel Eichler
Starting: Sept. 1ST
Meeting Day: Tuesday 1pm-2pm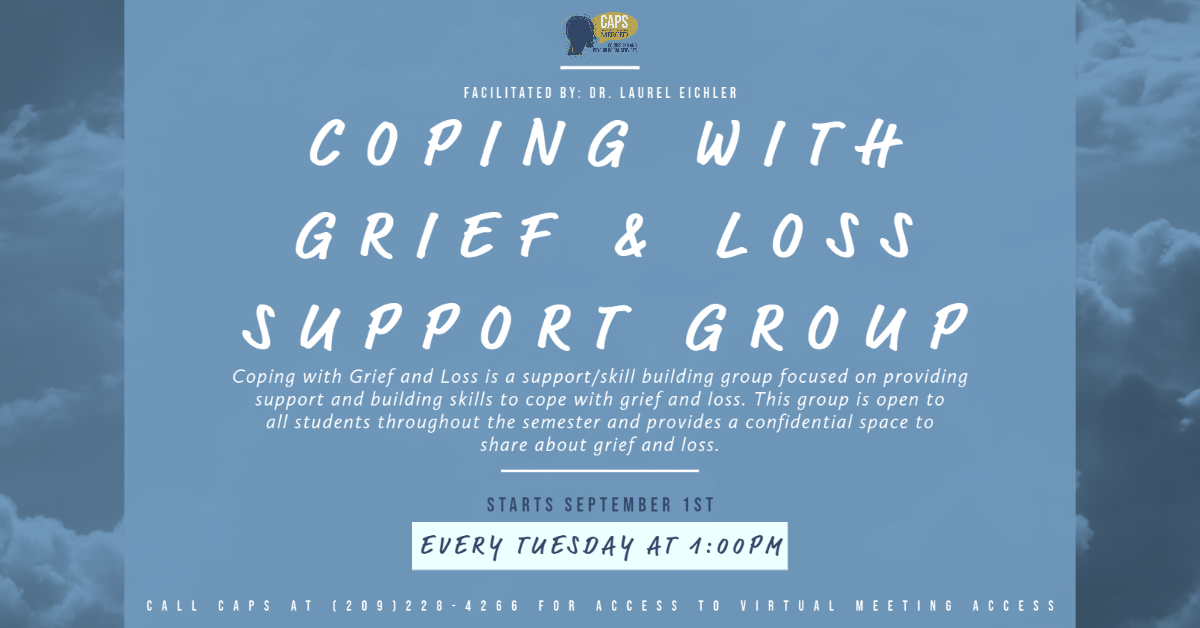 ---
Managing Emotions Group
Facilitated by Amanda Peterson, LMFT
Starting: Sept. 8th              
Meeting Day: Tuesday 3pm-4pm
---
Men's Trauma Group
Facilitated by: Dr. William Johnson
Starting: Sept. 1st 
Meeting Day: Tuesday 3pm-4pm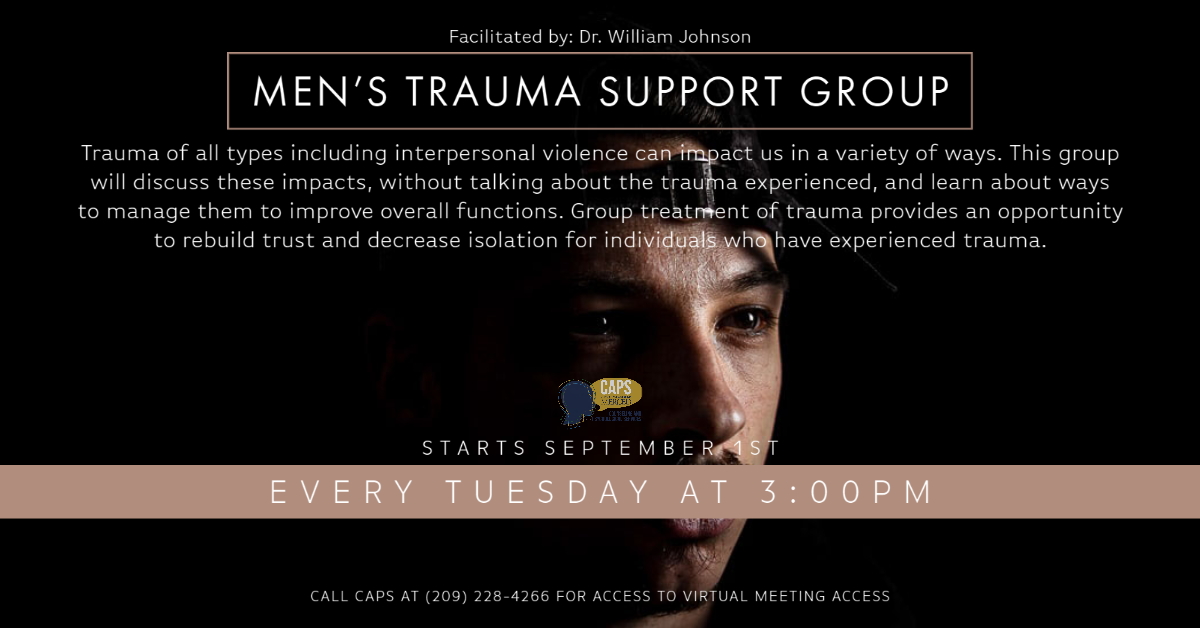 ---
LGBTQ+ Trauma Group
Facilitated by: Julie Ray, LMFT
Starting: Sept. 16th
Meeting Day: Wednesday 1pm-2pm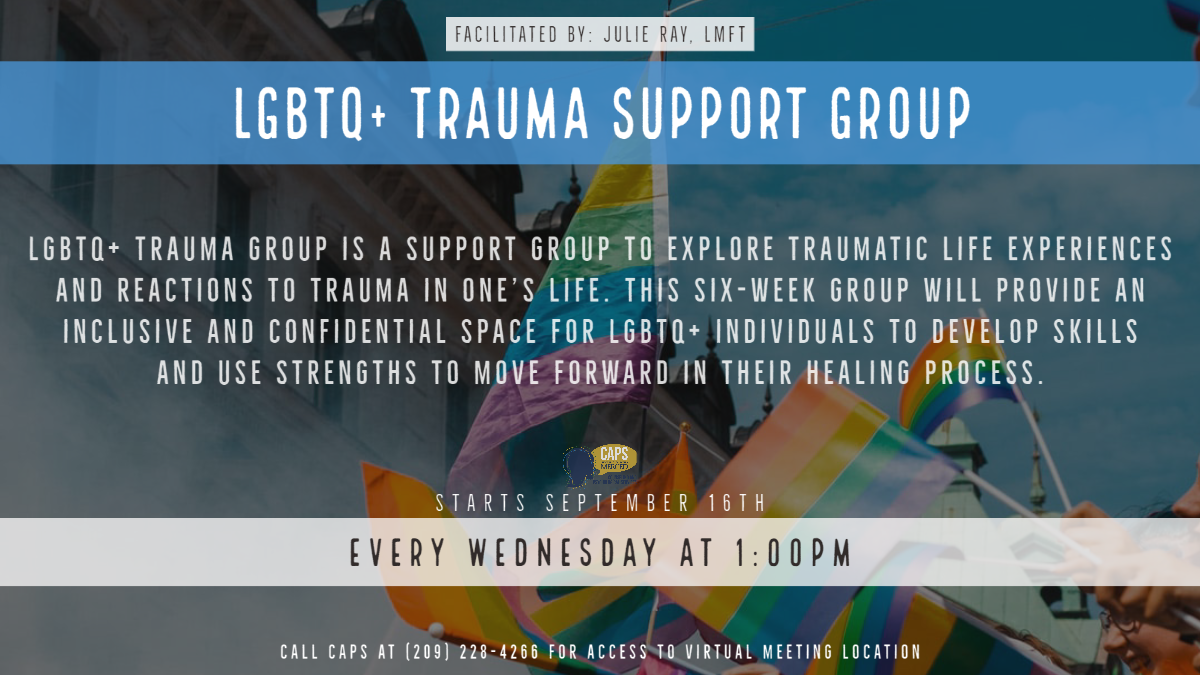 ---
Latinx Support
Facilitated by: Dr. Gabriel Zamudio
Starting: Sept. 2nd
Meeting Day: Wednesday 3pm-4pm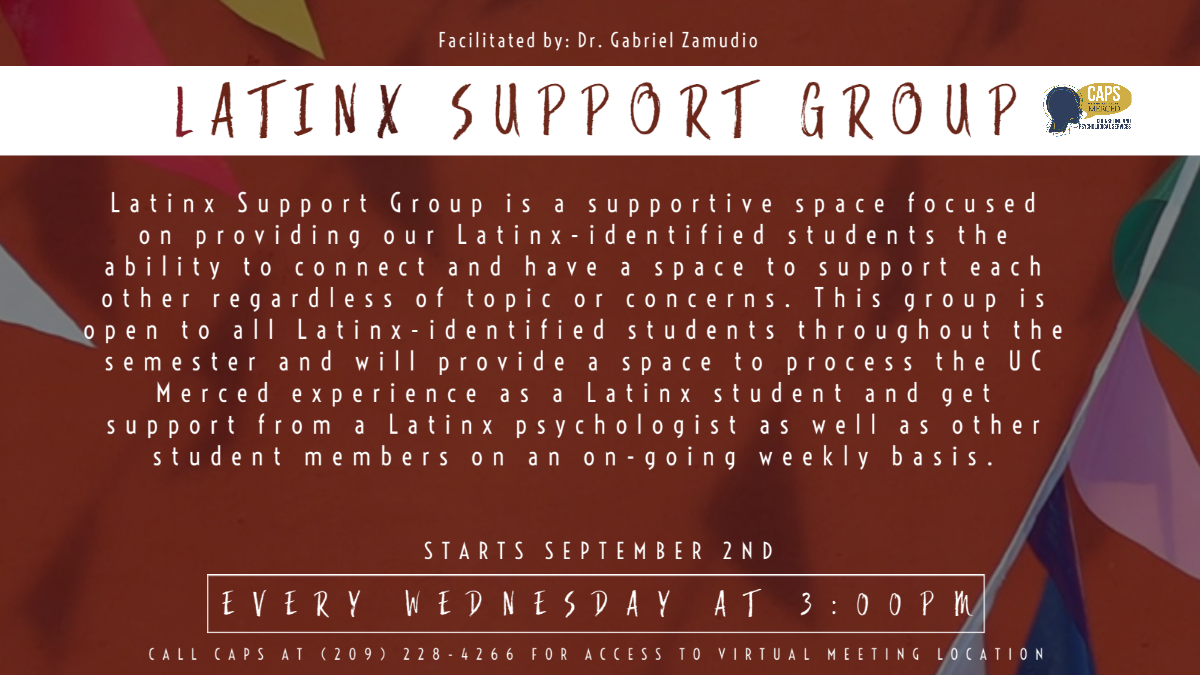 ---
International Grad Group
Facilitated by: Dr. Shao Li
Starting: Sept. 2nd
Meeting Day: Wednesday 4pm-5pm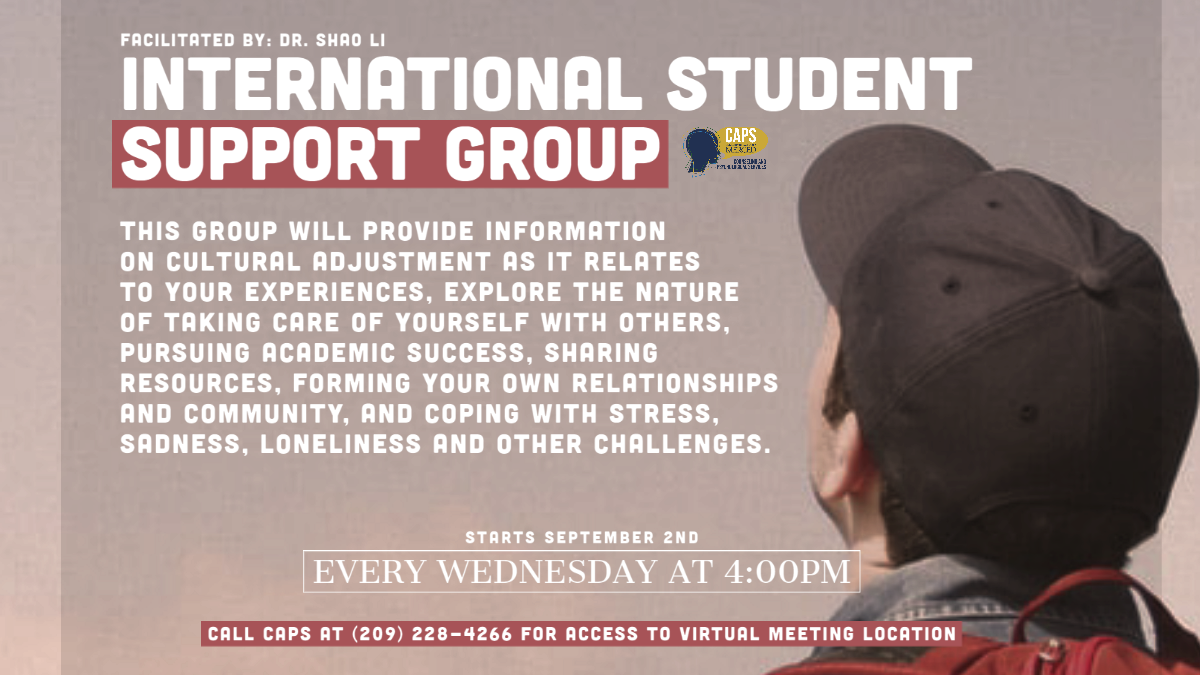 ---
Recovery Support Group
Facilitated by: Dr. Laurel Eichler
Starting: Sept. 3RD
Meeting Day: Thursday 1pm-2pm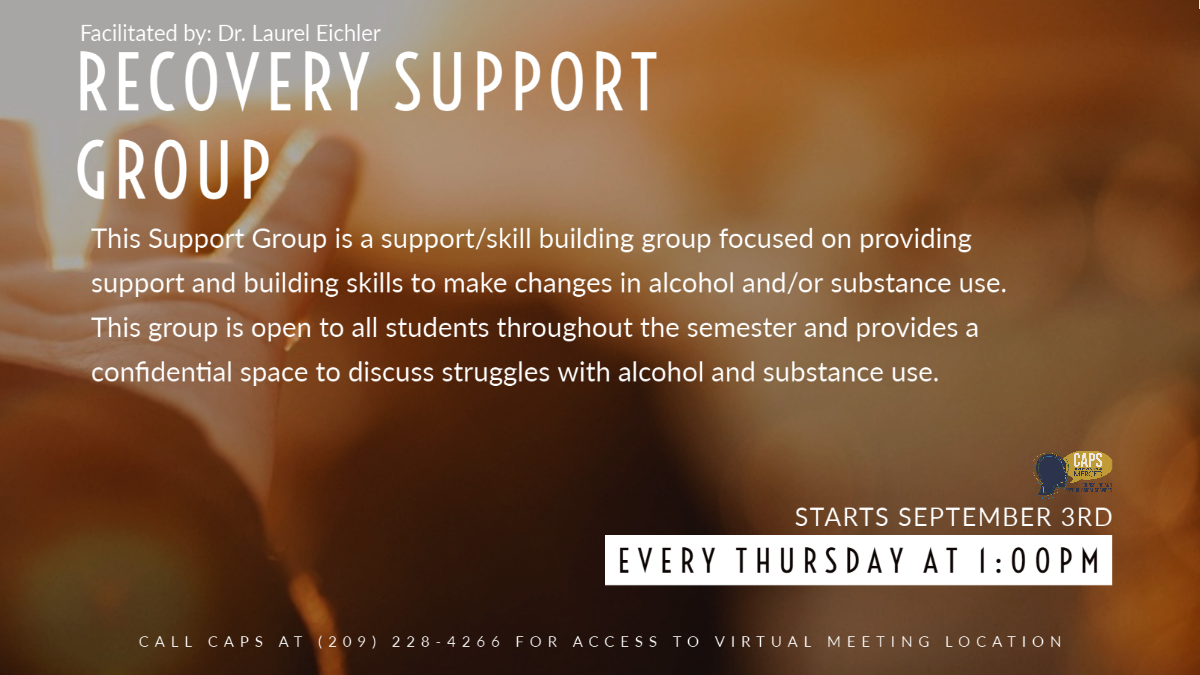 ---
Mastering Myself & My Emotions- (DBT)
Facilitated by: Dr. William Johnson
Starting: Sept. 3rd
Meeting Day: Thursday 3pm-4pm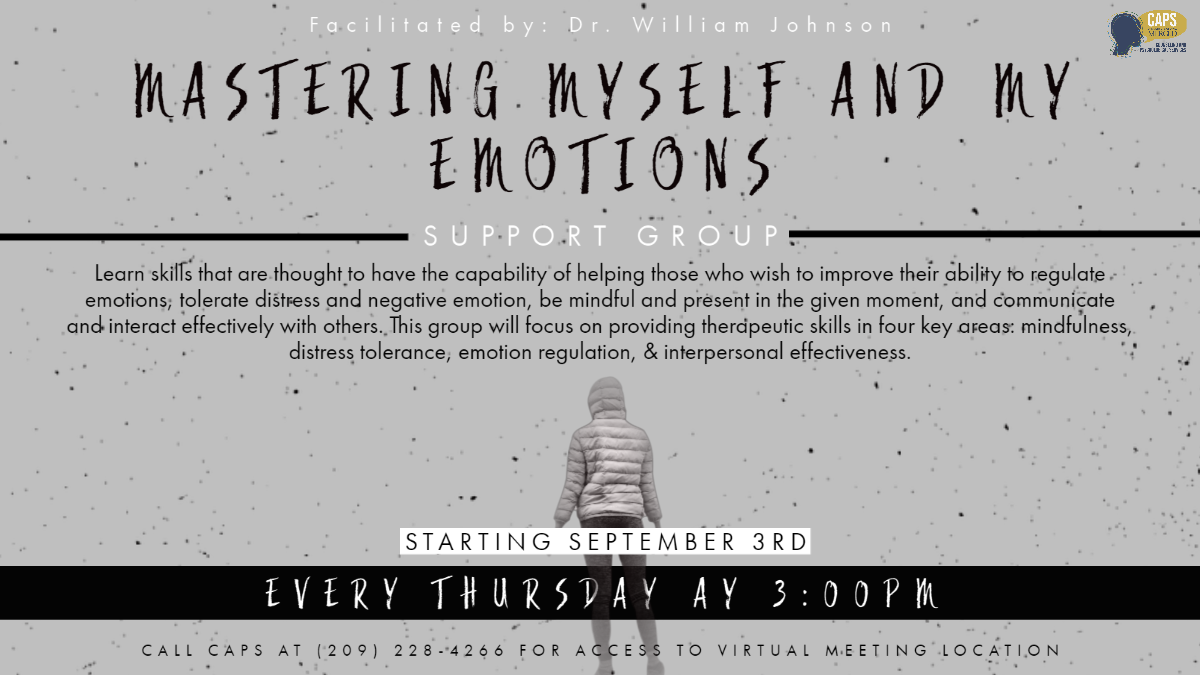 ---
Men's Support Group
Facilitated by: Dr. Gabriel Zamudio
Starting: Sept. 3rd
Meeting Day: Thursday 3pm-4pm
---
Grad Support Group
Facilitated by: Dr. Shao Li
Starting: Sept. 3rd
Meeting Day: Thursday 4pm-5pm